Home
Laura's new book launches on June 19, 2018!
Mikayla is a wrestler; when you grow up in a house full of brothers who are die-hard mat heads, it's in your DNA. She even has a wrestling name: Mickey. Some people don't want a girl on the team. But that won't stop her. She's determined to work hard, and win.
Lev is determined too–he's going to make it to the state championship. He's used to training with his two buddies as the Fearsome Threesome. But at the beginning of sixth grade, he's paired with a new partner—a girl. This better not get in the way of his goal.
Mickey and Lev work hard together, and find a way to become friends. But at States, there can only be one winner.
---
Laura Shovan's engaging, big-hearted debut is a time capsule of one class's poems during a transformative school year. Families change, and new friendships form as these terrific kids grow up and move on in this whimsical novel-in-verse about finding your voice and making sure others hear it.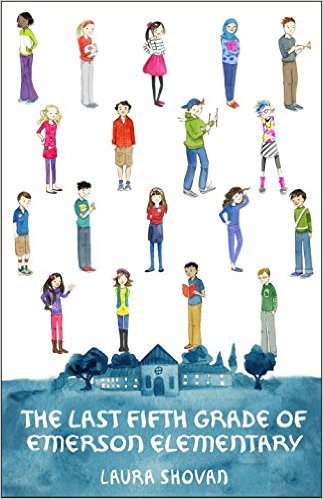 Eighteen kids,
one year of poems,
one school set to close.
Two yellow bulldozers
crouched outside,
ready to eat the building
in one greedy gulp.
But look out, bulldozers.
Ms. Hill's fifth-grade class
has plans for you.
They're going to speak up
and work together
to save their school.
Praise for
The Last Fifth Grade of Emerson Elementary
"Eighteen kids. Eighteen stories. An original idea, artfully and heartfully rendered. What a treat!"—Eileen Spinelli, author of Another Day as Emily and other books

"Sure to inspire the poet in all of us, young and old."—Mark Goldblatt, author of Twerp

"A delightful book, with an endearing cast of characters who can help teach the craft of poetry while sharing their own diverse personal stories."—Margarita Engle, Newbery Honor winning author of The Surrender Tree, National Young People's Poet Laureate

"The poems are easy to read, in authentic-sounding language that captures the poets' personalities; avatar-like illustrations accompany each piece to remind readers of who's who. A helpful guide to poetic forms appears at the end of the book." —The Horn Book

"Entertaining . . . Shovan skillfully employs different poetic forms and styles…Characters… will inspire readers as they find the courage to save their school and make their voices heard, both as a united front and as capable, valuable individuals." —Publishers Weekly

Visit Random House Children's Books online for the Free Educator's Guide.