Books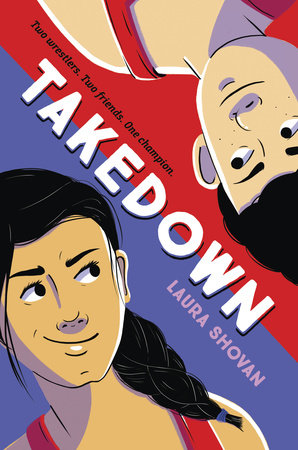 Click for the free Educator Guide!
Discover what happens when one girl wants to break barriers in a sport dominated by boys in this exciting and thoughtful novel by the author of The Last Fifth Grade of Emerson Elementary.
Mikayla is a wrestler; when you grow up in a house full of brothers who wrestle, it's inevitable. It's also a way to stay connected to her oldest brother, Evan, who moved in with their dad. Some people are objecting to having to having a girl on the team. But that's not stopping Mikayla. She's determined to work harder than ever, and win.
Lev is determined to make it to the state championships this year. He's used to training with his two buddies as the Fearsome Threesome; they know how to work together. At the beginning of sixth grade, he's paired with a new partner–a girl. This better not get in the way of his goal.
Mikayla and Lev work hard together and become friends. But when they face each other, only one of them can win.
AWARDS and HONORS
2019 Amelia Bloomer List of Recommended Feminist Literature for Birth through 18
Wisconsin State Reading Association "Just One More Page!" Recommendation List
A Junior Library Guild Selection
A PJ Our Way Selection
Mark Twain Award Nominee, Missouri Association of School Librarians
Find out more about this book at Goodreads.
Order your copy at Indiebound, Amazon, and Barnes & Noble. Signed copies of all of Laura's books are available through the Ivy Bookshop.
To learn more about Laura's research sources for Takedown, visit this blog post.
Want to share Takedown for your First Chapter Fridays? Watch here!