I'm counting down to Welcome to Monsterville's launch next Tuesday, April 25, and WOW do I have a poetry story to share with all of you. But first, I have one copy of Welcome to Monsterville to give away. Leave a comment to enter your name in the drawing.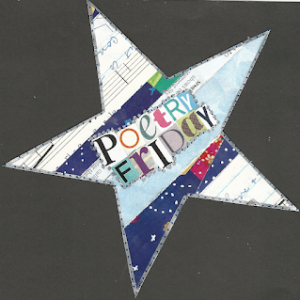 First, meet my mom, Pauline.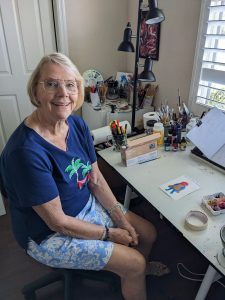 My mom has been an artist my whole life. She worked in oils when I was young — sometimes dabbling in stained glass or other media. Now in her 70s, Mom has found her niche in watercolors. She sends friends and family the most beautiful hand-painted cards.
But she still likes to dabble, taking classes to learn new techniques and to play. I was visiting my parents for Passover when a box of beautiful metallic paints arrived. I couldn't resist! I wanted to try.
So… this is what I painted. A MONSTER.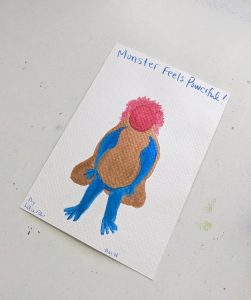 When I take Welcome to Monsterville into classrooms and draw or write with students, we always talk about how their monsters are feeling today. Because of the golden cape, Mom and I decided that this monster feels powerful.
But I felt kind of stuck. I wasn't sure where to go next with my monster. "Do you want to collaborate?" I asked my mother. "I'll finish the base and you add the face, maybe some claws?"
"Yes!" she said.
I had to head back to Maryland before Mom finished the monster. A few days later, she sent me this photo.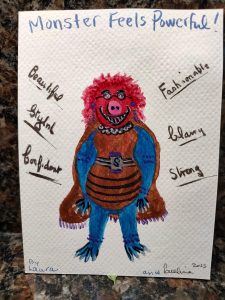 Whoa! I love the details here — the pearl choker and glasses, the fringe on the cape. But that wasn't all. Wait until you hear what happened next.
My mother send me a text. "My Monster Poem," it read.
My Monster Poem
By Pauline Dickson

My monster was not a conventional beauty.
In fact, she was quite the reverse.
But when she walked into a room
it dissipated the gloom 
and all stared in shock
for her poise and confidence were her rock.
She had an incredible effect on the crowd,
for they all rushed to their plastic surgeons
crying out loud,
"Please turn my nose into a snout!"
Whoa! When I read this poem, I'm amazed at what my mom is exploring — societal beauty standards versus this monster who radiates self-assuredness. That's powerful. That's the magic of working with the monsters.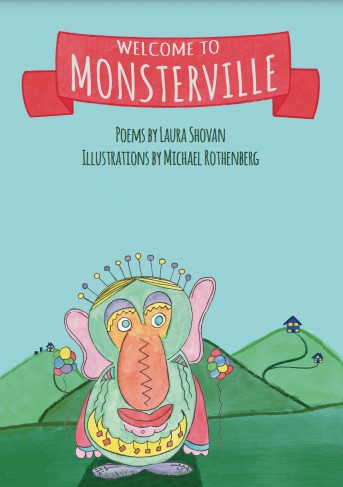 If you live in the Maryland, Washington, DC area, I have a few launch events coming up.
*Sunday, April 23, I'll be a featured author at the Kensington Book Festival in Kensington, MD. Find me at the La Rambla Stage at 1 pm, where I'll be having a conversation with author Steve Piacente about setting my middle grade books in Maryland.
*Tuesday, April 25 is publication day! Celebrate by drawing and/or writing your own monster. Be sure to tag me on Instagram or Facebook.

*Saturday, April 29, I'll be spending Independent Bookstore Day at Growing Minds Bookstore in Catonsville, MD. Bring the kids for monster crafts from 12-2. We'll be doing a launch party for Welcome to Monsterville at 2 pm, including a talk with me and author Susan Muaddi Darraj (Farah Rocks Fifth Grade).