About a week ago, my poet friend Michael Rothenberg messaged me. The message was this: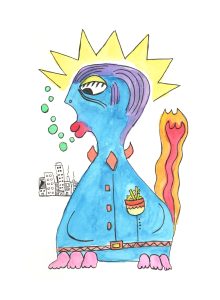 This looked to me like a monster in need of a poem. So…
Monster Poem #1
After artwork by Michael Rothenberg
A monster bought the house next door.
When it moved in, I wasn't sure
just how this creature, tall and wide,
would squeeze its blobby form inside.
Its lips went first, then purple hair,
then six pink feet climbed up the stair.
It wore a jumpsuit, denim blue.
I called out, "That looks great on you!"
The monster turned, gave me a nod,
and blew green bubbles – which was odd.
But maybe that's how monsters say,
"Hello, new friend! I'd like to play."
Laura Shovan
And then this cutie arrived in my in-box: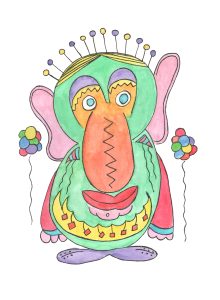 How could I resist?
Monster Poem #2
After artwork by Michael Rothenberg
Monsters don't have birthdays.
I think that is unfair!
And so I planned a party
for our friends in Monster's lair.
I made him a tiara and
a necklace strung with flags.
All our friends brought tasty food
and gifts in bright pink bags.
Surprise! the guests all shouted
but Monster wasn't scared.
He laughed and hugged each friend
and said, "I never knew you cared."
Laura Shovan
Michael and I are both getting a kick out of this collaboration. I hope there will be more monsters and monster poems in our future.
Michael Rothenberg is a poet, artist, and activist. He is founder of 100 Thousand Poets for Change and the Read a Poem to a Child initiative. He's also my buddy! Read Michael's bio here.
You can see more of Michael's (non-monstrous) artwork at the online magazine Otoliths.