Dear Poetry Friday friends,
My heart is broken. My dear friend and collaborator, the poet Michael Rothenberg, passed away on November 21.
Michael and I were already close friends when, in January of 2020, the art therapy he was doing took a whimsical turn. Instead of the usual abstract image, Michael created an adorable blue monster blowing green bubbles. I wrote Michael a monster poem, hoping to bring a smile to his face. He was delighted. And then he sent me another monster.
Almost immediately, we started thinking about doing a book together. A concept began to take shape. The poems described children interacting with Michael's monsters, most of whom represented an emotion or state of being: fear, curiosity, self-love, sadness, isolation. "I like the idea of encouraging readers to sit with a feeling and then let it evolve," I told Michael, writing about the poem "When I Cry." "Not to brush the sadness away or deny it, but to see it as part of the whole range of emotions."
He likened our process to performing his poetry accompanied by live music. "It's all about my relationship with [the] musicians," Michael said. "We're in it together." I told Michael, "I just let the ideas come. No judgement." He replied, "It is the only way for me. The imagination stays flowing that way."
Welcome to Monsterville will be published this May (Apprentice House Press). Michael was enormously proud to be the illustrator of a children's book, especially one that might help families cope with grief. My own grief is compounded by the knowledge that Michael won't be here to celebrate the book and enjoy seeing children reading it.
He was an incredibly generous person, an social justice activist and mentor to poets around the globe. If you have time today, please read about this amazing human being.
When I Cry
from Welcome to Monsterville, by Laura Shovan
illustrated by Michael Rothenberg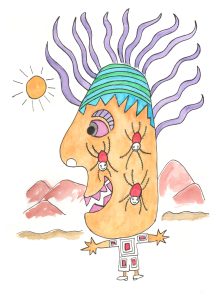 There is a monster in me called Sadness.
Its arms and legs ache.
It is weary, as if it spent all night
walking across steep mountains.
There is a monster in me whose hair
stretches from its head in tangled rivers,
flowing fast—like the thoughts
that keep me awake.
When I cry, Monster weeps.
Tears crawl on fuzzy legs down its cheeks.
They tickle! Monster laughs
until its teeth turn pink.
Can I laugh too, even though
I am sad? Yes, Monster says.
You're a weary, silly, laughing,
weeping, wonderful creature.
Thank you to Tabatha Yeatts-Lonske, who first published this poem in Imperfect II: poems about perspective: an anthology for middle schoolers.