Thank you, Poetry Friday friends, for all of your kind comments on last Friday's blog post. Looking back, 2022 had more than the usual losses and upheavals. But it also had bright moments. One of my favorite projects of 2022 was writing a series of poems for Nature Culture's Writing the Land Series. This organization pairs poets with local-to-them land trusts, to highlight our deep and abiding relationship with the soil, the forests, the farms.
Even though it is not a land trust, I asked the organizer, Lis McLoughlin, if I could partner with a local teaching farm, the Community Ecology Institute in Columbia, Maryland. It is an amazing non-profit, preserving historic Freetown Farm in a suburban neighborhood. CEI now has teaching gardens, community gardens for groups like the local NAACP, workshops for homeschoolers, and a wooded area for forest baths.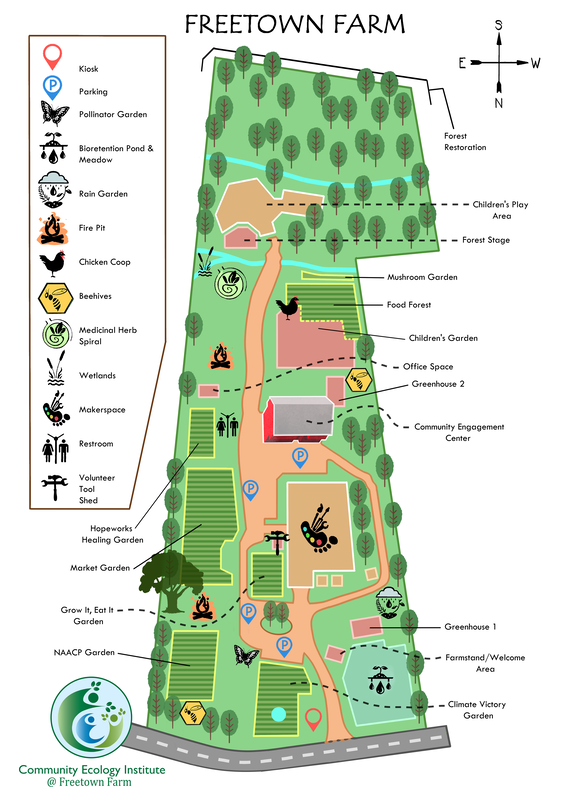 Today, I am giving away two copies of Writing the Land: Foodways and Social Justice, edited by Lis McLoughlin. Just let me know in the comments that you would like a copy. I'll mail out a book to the first two raised hands (U.S. only please.)
After many visits to the farm, poet Patti Ross and I each contributed three poems to a chapter about Community Ecology Institute. The chapter highlights how the farm works at the intersection of food and social justice. The chapter includes an essay about CEI by its founder, Chiara D'Amore, my poem "On Seeing a Proliferation of Mayapples at Freetown Farm" (listen here), and two interviews / found poems I did with CEI staff: "Blueberries" with CEI Nourishing Gardens Program Director Theresa Taylor, and "Skunk Cabbage" with Chiara.
But Patti and I wanted to do something more, something collaborative. She suggested a haiku-related form, the Mondo, works as a series of questions and responses. Each of us wrote several short poem-questions to which the other responded. This mondo reflects our shared wonderings about Freetown Farm's history as a free Black community and stop on the Underground Railroad.
Here is that poem.
Writing the Land Mondo
By Patti Ross and Laura Shovan

Patti's Questions & Laura's Responses

How can the roots of
a cherry tomato plant
hold the weight of poverty?

     Nourished soil is rich
     with nutrients, water, sun—
     nourished humans thrive like vines.

On knees, weeding, what
societal albatross have
we fought to unearth today?

     Backs exposed to sun—
     memory of growing food
     in pogroms and plantations.

The Red-winged blackbird
watches Harriett; did she just
whisper the route to freedom?

     Follow her red flash:
     a sash tied to a low branch,
     a quilted curve of crimson.

Will we find fertile
seeds of social justice in
the terse catechism of plants?

     Rows of collards, kale—
     a psalm composed of new life
     feeds our souls, fills our bellies.

Laura's Questions & Patti's Responses

When you put your hands
in farm soil, what legacy
gets trapped underneath your nails?

     The tears of Tribal
     leaders and the bloody sweat
     of African Kings.

If this land could speak
its history, what stories
would its dark, tangled roots spell?

     Worthington, Clark, Shaw,
     17 humans enslaved until free.
     Tubman unafraid.

Who walked here, who worked,
hid, and died on Freetown's fields?
Whose lives make this land fertile?

     Brits, Indigenous,
     enslaved and free. All ate of
     the native persimmon trees.
Other chapters in Writing the Land: Foodways and Social Justice include:
Sustainable Iowa Land Trust (Iowa)
Downeast Salmon Federation (Maine)
Peconic Land Trust (New York)
Agrarian Land Trust (Nationwide)
Northeast Farmers of Color (Northeast US)
Poetry X Hunger
and more
The Writing the Land initiative is an annual program. If you'd like to get involved, your first stop is the sign up form on the WTL website.