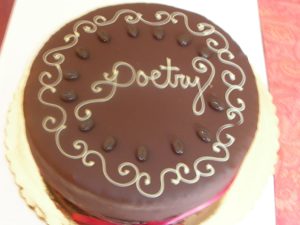 I'm counting down the days to February.
Why?
So many reasons. The second half of my family's four-birthdays-in-five-weeks happens in February. My kid and I are going to the U.K. to visit family in February. My VCFA students' first packets of creative and critical work arrive in February.
And while all that's going on… I get to write a poem every day with a fantastic community of creatives.
Can you believe I started the February Poem Project all the way back in 2013 (theme: vintage postcards)?! Along the way, it went from a solo pursuit to a vibrant and supportive group of poets.
There are a few spots left in this year's group, which will be about 35 people total. Want to know more? Read on!
Laura Shovan's 11th Annual February Daily Poem Project.
For several years — in order to practice writing and repair the world (the Jewish concept of tikkun olam) during my birthday month — my blog hosted a community poetry project. We have written in response to Pantone paint colors, sound clips, found objects, and on such themes as Water and Bodies. We moved to Facebook in 2017 to accommodate the number of poets and writers who wanted to participate.
2023 Theme: Story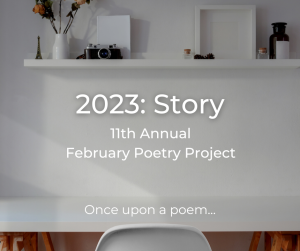 Story is an essential part of being human. We are shaped by fairy tales, narrative songs, and cultural histories. Hayao Miyazaki, the legendary animated filmmaker, said, "I believe that stories have an important role to play in the formation of human beings, that they can stimulate, amaze, and inspire their listeners." Memory is a form of story that lives in our minds until we shape it and share it with others.
Stories are present in the books we have read, the films we have watched, the walks we have taken. Some are "just the facts." Others play fast and loose with details in order to reveal a deeper truth. Jokes and poems rely on rhythm to tell a story. But the tools of storytelling reach beyond language. Sound, visual images, smells, tastes, touch, and our understanding of time—each these elements can enrich a story.
Join me beside the campfire, where we will spend a month telling, questioning, and rethinking the power of story.
You'll also find a history of the project and complete instructions on my blog: http://laurashovan.com/2018/01/announcing-the-6th-annual-february-poetry-project/