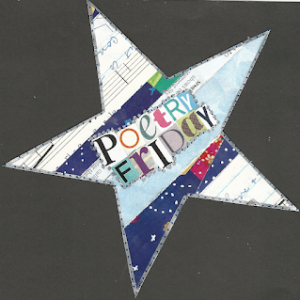 Welcome, everyone. You're in the right place! Poetry Friday is here, February 3, 2023. Never heard of Poetry Friday? Let Renee La Tulippe explain.
Please add your links in the comments. I will be rounding up the old fashioned way.
But before we get to that, lets talk about the magic of found families. I love stories where makeshift families come together to love and support one another. They are a part of the charm of The One and Only Ivan by Katherine Applegate and A Rover's Story by Jasmine Warga (my current middle grade read).
So I was enchanted from the moment I opened Laura Purdie Salas' upcoming picture book, Finding Family: The Duckling Raised by Loons — the true story of a mallard duckling adopted by a loon pair. On the inside flap, these words greeted me:
gliding through rippling stripes of
pine,
maple,
and aspen,
the unlikely family sails the lake.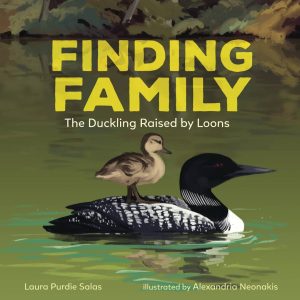 Laura has told this story in spare, poetic free verse filled with sound-play and the calls of lake creatures.
Mother and father loon
guard the nest
that rests
in the shadow
of the tamarack.
Bald eagles patrol the sky.
They spy,
shriek,
and swoop.
When one egg is lost, the loon parents "hover over one scruffy yellowish chick." As the days go by, it's clear that this chick is not a loon at all. She is a duckling, who takes to her loon parents' ways like … a duck to water!
Mother and Father
dive down,
rise up
with
fish.
Duckling snatches the
tiny silver silvers.
Mallarads don't eat minnows
or take food from their parents...
but Duckling does.
Watch the book trailer for a sneak peek at the interior art and a photograph of the real life family that inspired Finding Family.
This sweet story is Laura's first narrative nonfiction picture book. It's a beautiful read-aloud for families of every stripe, spot, and feather.
Laura was kind enough to share some links and resources to go with Finding Family:
This Week's Poetry Friday Link-up
Interviews
At Alphabet Soup, Jama has an interview with Andrea Potos about her new poetry collection, Her Joy Becomes.
Announcements
Robyn Hood Black has a haiku in the new issue of bottle rockets, and shows off her birthday crown: http://www.robynhoodblack.com/blog/posts/42258
Matt Forrest Esenwine has news about school visits, World Read Aloud Day, and shares a poem from his past: https://wp.me/p2DEY3-3nJ
Original Poems
Linda Mitchell responds to Catherine's challenge to write about a time when an activity took up all your attention. Check out her post and poem 'Flow is Wolf Spelled Backwards.' https://awordedgewiselindamitchell.blogspot.com/
Janice Scully shares two February poems at http://Janicescully.com
Michelle Kogan is celebrating "Mid Winter" with a poem and some music. She says "for all those in cold climates–perhaps it'll soothe whatever can use soothing": https://moreart4all.wordpress.com/2023/02/02/poetry-friday-mid-winter/
Kay McGriff introduces us to her "newish" dog with a poem and has a late contribution last week's cascade poem challenge: https://kaymcgriff.edublogs.org/2023/02/02/poetry-friday-meet-lucky-pup/
At Teacher Dance, Linda Baie shares Poetry Friday postcards and her own haiku for all of us who love snail mail. https://www.teacherdance.org/2023/02/poetryfriday-love-my-mail.html
Alan J. Wright discovered a J. Patrick Lewis invented form — Careerhymes! He shares one of these light verse gems by Lewis and a careerhyme of his own.
Catherine Flynn is getting cozy with a poem about knitting! https://readingtothecore.com/2023/02/02/poetry-friday-string-theory/
Bridget Magee introduces us to her my new poetry series, "Camera Roll 23: Nothing Gets Under My Skin," (23 words about a picture on my phone's camera roll).
http://www.weewordsforweeones.com/2023/02/camera-roll-23-nothing-gets-under-my.html
Marcie Flinchum Atkins is in with a haiku and a post about her word for 2023, NOTICE. https://www.marcieatkins.com/2023/02/03/poetry-friday-noticing-nature/
Patricia J. Franz explores color and light in a crossover with her Spiritual Thursday post.
Over at The Poem Farm today, Amy Ludwig VanDerwater has a wintry poem — a box full of snow and a couple of writing ideas.
You'll find more snowy verses in the form of a new ArtSpeak forgiveness poem at Irene Latham's blog. https://irenelatham.blogspot.com/2023/02/forgiveness-poem.html
Rose Cappelli is writing is about the beauty and wonder of a church's stained glass windows, inspired by poet Margaret Simon.
Speaking of Margaret Simon, today she is sharing a poem draft about the writing process and loss. https://reflectionsontheteche.com/2023/02/03/poetry-friday-blocks-to-flow/
At My Juicy Little Universe, Heidi Mordhorst is responding to Catherine Flynn's invitation to flow: https://myjuicylittleuniverse.blogspot.com/2023/02/all-hail-csikszentmihalyi.html
More flow poetry from Mary Lee Hahn, who is also sharing a response to Catherine's challenge for the Inklings: https://ayearofreading.org/2023/02/03/poetry-friday-the-joy-of-making/
An original poem AND an announcement from Karen Edmisten — it's her 39th wedding anniversary!
http://karenedmisten.blogspot.com/2023/02/poetry-friday-thirty-nine-years-wishing.html
Carol Varsalona shares, "I am filled with thoughts of a Disney family vacation, something I wished for with the grandgirls for a few years. My post with several image poems and links to prior blogs about this trip are at https://beyondliteracylink.blogspot.com/2023/02/poetry-friday-wishes.html"
Jone MacCulloch is participating in my February Poetry Project. Check out two of her poems in response to this year's theme: STORY. https://www.jonerushmacculloch.com/blog/poetry-friday-week-5-poems-from-prompts
At Nix the Comfort Zone, Inkling participant Molly Hogal has a flow poem. https://nixthecomfortzone.com/2023/02/03/almost-forgot-to-flow/
Featured Poetry Books
Laura Purdie Salas is featuring Lydia Lukidis and her new book Deep, Deep Down: The Secret Underwater Poetry of the Mariana Trench. https://laurasalas.com/poems-for-teachers/lydia-lukidis-and-deep-deep-down-poetry-friday/
Poems We Love
At The Opposite of Indifference, Tabatha is celebrating Saint Brigid's Day with a poem by Emily Hancock. (P.S. from Laura — There's a beautiful podcast episode about Brigid of Kildaire at What's Her Name: Stories of Fascinating Women You've Never Heard of.)
At There is no such thing as a God-forsaken town, Ruth shares "Feather" by Lew R. Sarett, along with a French song that Ruth translated for us!
More links to come!