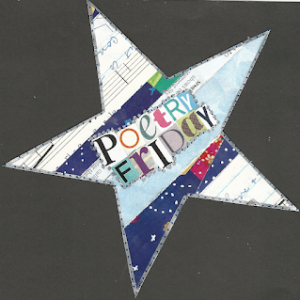 Tuesday was the final day of the 2023 February Poetry Project. This year's theme was STORY. There were so many incredible prompts, dreamed up by the group's participants.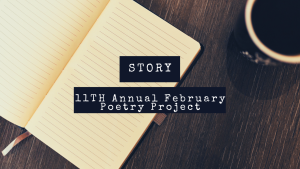 I've been thinking a lot about poems and how we use them to tell stories. I'm gearing up to teach my virtual class once again: "Poetry Techniques for the Verse Novelist." The first time I offered the course, in November/December of 2022, we had a great, enthusiastic group. I learned so much from them and I know they learned from each other.
This six session course is designed for people who would like to write a verse novel, or are drafting one, but … 1. aren't confident in their poetry skills or 2. have strong poetry skills but haven't worked on an extended narrative in verse.
The class is limited to 8-12 people. When it's full, I send a questionnaire to gauge interest in the areas we focus on and which mentor texts we use. (Last time, the books were Long Way Down, by Jason Reynolds, Inside Out & Back Again, by Thanhha Lai, Brown Girl Dreaming, by Jacqueline Woodson, Blood Water Paint, by Joy McCullough, and my verse novel, The Last Fifth Grade of Emerson Elementary.)
The class will likely run in May and June. All sessions are recorded. The fee includes an optional 30 minute private consultation with me and — if people are interested — there will once again be a student-run critique group concurrent with the class.
If you are interested, please contact me by email at laurashovan@gmail.com for fees and details.
Now onto poetry!
Poetry Friday regular Marilyn Garcia wrote one of my favorite prompts for this month: "Today let's think about old objects that hold stories. What is the oldest object in your home? Why do you have it? How did you get it? Do you actually use it and how?"
I wrote a double nonet about a jacket I gave to my grandmother as a gift, which now belongs to me.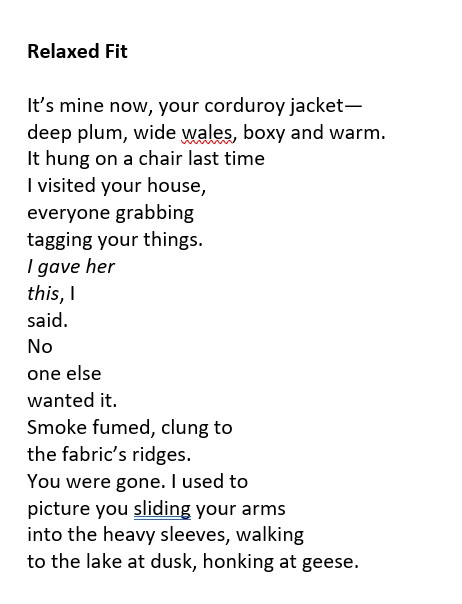 And this is what I learned about corduroy as a fabric: "The ridges of piled yarn on corduroy fabric are known as wales, and these wales vary significantly in width. A piece of corduroy fabric's 'wale number' is determined by the number of wales contained in a single inch of fabric, and standard corduroy fabric has around 11-12 wales." (Source: https://sewport.com/fabrics-directory/corduroy-fabric) This jacket hangs on the office chair where I am sitting right now.
As you can imagine, the responses to this prompt were fascinating insights into the lives and histories of the poets.
It was a great month and I wish I could have participated more! A trip to the UK with my daughter, followed by a (mild) bout of Covid meant I only wrote about 16 poems. I'm hoping to go back, complete all of the prompts, and read everyone else's contributions.
Thanks to all of those who were part of this year's project! Can't wait to do it again in 2024.